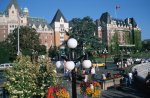 About TQS
Established in 1969, the British Columbia Teacher Qualification Service (TQS) is an entity jointly supported by the BC School Trustees Association and the BC Teachers' Federation. The primary function of the TQS is to assist teachers and their employing school boards in establishing the qualifications of teachers for salary purposes. The TQS only administers cards for current or prospective teachers of the public school system.
If you are looking for licencing information to become a teacher in BC, please refer to the BC Teacher Regulation Branch.
The TQS is a small, but efficient office. A staff of four combines their energies to process over four thousand applications annually.
The staff consists of:
Director of Evaluation, Carl Post
Evaluator, Burt Deeter
Senior Office Assistant, Maria Martins
Office Assistant, Hanna Mulatu